LUUKS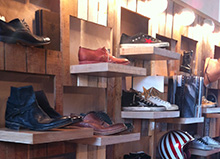 Luuks Boutique
Jacob Obrechtstraat 12
1071 KL Amsterdam
Registrationnr: 34181262VAT: 817239698B01

Opening hours:Monday 13.00-18.00
Tue-Sat 11.00-18.00.
---
Highlighted brands
Fiorentini Baker
Fiorentini + Baker aims to create simple, yet beautiful boots/shoes
Officine Creative
Shoes, boots, really all footwear made by Officine Creative has a special vintage look and feel.
Maison Margiela
The brand Maison Margiela has a different character every season but keeps intact the strong sense of conceptual experimentation.
Marsèll
In 2001, siblings Roberto, Marco, and Elisa Cima launched Marsèll, a luxury shoe company highlighting sturdy, classic footwear with a modern twist